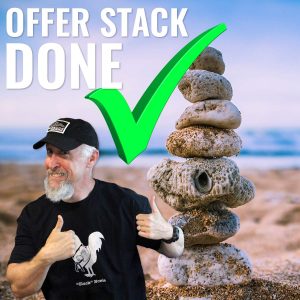 Today we're going to finish your offer stack... and you need to get excited!
We're going to keep up the momentum we kicked off yesterday and get a MAJOR chunk of this process DONE right now.
Watch this video to see my final offer stack for the example we've been using all along... along with a great demo of a tool that can make this SO much easier for you.
Note: You will need to purchase Funnel Scripts to access this script. If you have purchased Funnel Scripts, you can access once you have logged in.
If you have not purchased Funnel Scripts, you can learn more about what Funnel Scripts has to offer and how to purchase it at https://funnelscripts.com
Today's assignment is to finalize your entire offer stack today! Feel free to ask for feedback from your fellow challengers on your stack in your specific One Funnel Away Challenge FB Group.