Transition From Story To Offer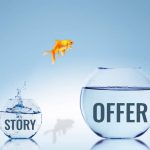 Today we're going to talk about how you go from your story, which has people emotionally involved, and transition to your offer.
This is really simple... so don't complicate it!
Here is what I want you to do today
Get your story from yesterday done
Create your transition
Look at them together
Once you've done today's assignment, post over in your specific One Funnel Away Challenge FB Group to share that you got this done and how you feel about it!