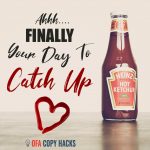 Today's video is the shortest of the entire OFA Copy Hacks program so far, but it may actually be the most important.
WHY are you doing what you're doing? And why should you finish what you start with the OFA Challenge.
Watch today's lesson (it's only 1:58) and then get caught up.
YES! It's that important 🙂
Today is a another catchup day... so use this time to catch up right now!
Once you're all caught up, please post over in your specific One Funnel Away Challenge FB Group "I'm all caught up!" and give yourself a high five!