Polishing Your Copy For Maximum Sales!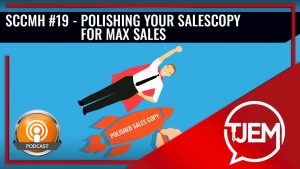 Today we have a special treat... joining us again is a very good friend of mine, former Navy SEAL, Stew Smith.
Stew operates a VERY successful fitness publishing empire and has done so since 1998. He and I do a podcast called "The Sales Copywriting and Content Marketing Hacks" Podcast.
Today I want to share a recent episode we did on the "Polishing Your Sales Copy for Max Sales"
On this podcast, we show you how to polish your sales copy for you and your business market.
Here are some thoughts and ideas you should use to evaluate your sales copy:
Starting with the Title and Headlines, does it have a hook to draw attention? Does the hook build curiosity that resonates with your target audience?
Does your sales copy discuss a problem and how to fix it?
Test a few changes to your headlines / titles. See which one works best in an article, product, or service.
Are you keeping eyes above the fold? With computers, memes, YouTube videos, you need to have links in the first 3 lines so people do not have to scroll or do ANYTHING.
Do you let them know what they get right before the CALL TO ACTION?
Do your bullets have meaning and benefit - not just the features of your product / service?
If you want to take your sales message from 90% to 95 - 100%, this lesson has everything you need.
If you're not done with your sales letter and OTO, today's day to get caught up!!